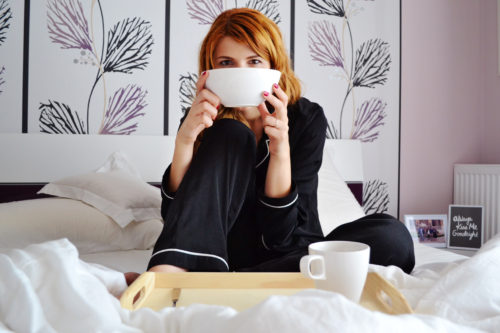 It is no secret that I'm a huge fan of the "Work at Home" lifestyle. But if this is something you've been considering (or day dreaming about), the time has never been better to take the leap.
Here are just 10 of the reasons why I love being a Work at Home mom:
1. Wardrobe Optional (PJ, t-shirt, slippers, barefoot, nothing?)
It is your secret. I won't tell. Choose how you dress on a daily basis. Sometimes, if I'm deep into a deadline or really focused on a goal, I won't change out of my jammies or put on make-up all day. Boy, those are great days!
2. The Perfect View
You can take your work on the road with you. Living the "laptop lifestyle" is all about being mobile with your work. Go on family trips, visit relatives, or even just work in the park on a beautiful day. You can always have the perfect view (and it will never be a cubicle).
3. Office Not Required
Similar to #2, but you don't even have to have an office. Almost every day I work from the comfort of my living room sofa. If I get bored there, I'll work from bed or from the kitchen table or from the back porch. The sky is the limit on what you can choose as your office for the day.
4. Schedule Flexibility
This is one of the best parts for me. I'm a busy mom with three kids in school. I spend several hours a day driving them around to school and activities. As a work at home mom, I can choose my own schedule and it makes my life so much easier.
5. You Control the Thermostat
I love this one! As a mom of a certain age, keeping things cool around the house is important for me. I can't stand being in an office and either freezing or being stuffy. If you work at home—you're in control. Yes! Be the queen of your castle!
6. Unlimited Snacks (or Snack Breaks)
Okay, well maybe not totally unlimited. I mean, don't use working at home as an excuse to overload your day with junk food. But, if you need a snack or a coffee break, it is on your terms and when you see fit. No more scheduled breaks—you're in charge.
7. Be the Boss (even if you're not "the boss")
Most work at home moms are entrepreneurs. We own and operate our own businesses. Some are self-proprietors, some LLCs, and some corporations. There are all sorts of possibilities. But, even if you don't really want to run a full-fledged business, you can be quite the successful freelancer who works for a business from home. And, being a freelancer means more control on your part and less rules that you have to follow. Being the boss is fabulous!
8. More time with kids/family
This reason, of course, was the number one reason I sought a work from home lifestyle to begin with. I wanted to be home with my kids. Now that they are bigger/older, they don't need me as much during the day. But, I'm always available for sick days, vacations, events, field trips, or anything else that they might need or want to do. Also, I can choose how much time I "need" to be with my family. It is amazing!
9. No Commute (road rage, traffic, time wasted)
Okay, so I do have a commute daily because I'm taking the kids to and from school and running errands and such. But that commute is because I want to do it, not because I have to do it. And, if you add that commute to an additional work commute, I would have zero free time in my life. I also don't have to waste time sitting in 5:00 traffic and dealing with road rage (mine and others).
10. Less Stress
This is the culmination of all the other things I've mentioned here. Nothing comes without any stress, but I've found that escaping the drama of an office setting worked wonders for my over-all mood and attitude. I love the entire idea of taking a meditation break or playing music in the background while I work. If I want to listen to television while working, I can do that too. Everything is chill in my office and no watercooler gossip.
The bottom line here is that if you haven't tried it, you are missing out!
And the good news is that I'm offering up a FREE Masterclass on how to get started NOW on your journey to working from home. To register, visit http://www.MomLifeStuff.com and sign up today.
 I'll see you around the block!