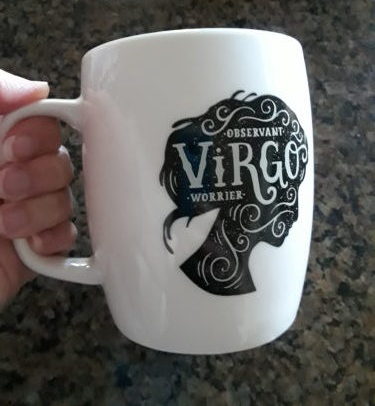 For Christmas, my husband gave me the mug pictured above. Now, let me share with you that I love being a Virgo. In fact, it is one of my favorite things about myself. But, I was a little irritated at the "descriptive wording" that was on my mug. I mean, "Observant Worrier"? Could that be any more lame?
He gave one to my daughter as well and she's a Sagittarius. Her mug says "Generous & Sassy"!
Why doesn't mine say something cute like… "Adorable & Creative" or "Perfect & Pouty" or I'd even take "Witty & Wonderful." I mean, I'm not that picky! Well, maybe a tad picky. But, I digress…
Anyway, I thought this was dumb and pouted over it. But then, I thought about it a little more. I really am a worrier. And, I don't think it has to do all that much with being born in September. I think it has to do with being a mom. Yep, I worry about everything. I even worry about worrying so much. Wow!
So, the good news is that I've developed a coaching program that helps moms not to worry so much. I've self-coached myself out of the habit and I want to share my tips and tricks with other amazing moms.
My new package is hitting the virtual streets today with a ridiculously low price just for Mother's Day. Check it out here: Don't Worry, Be Mommy! Pick it up before you have to worry about the price going up. #WorryNoMore
See you on the inside, with my mug full of calming tea.
Wise and Worry Free,